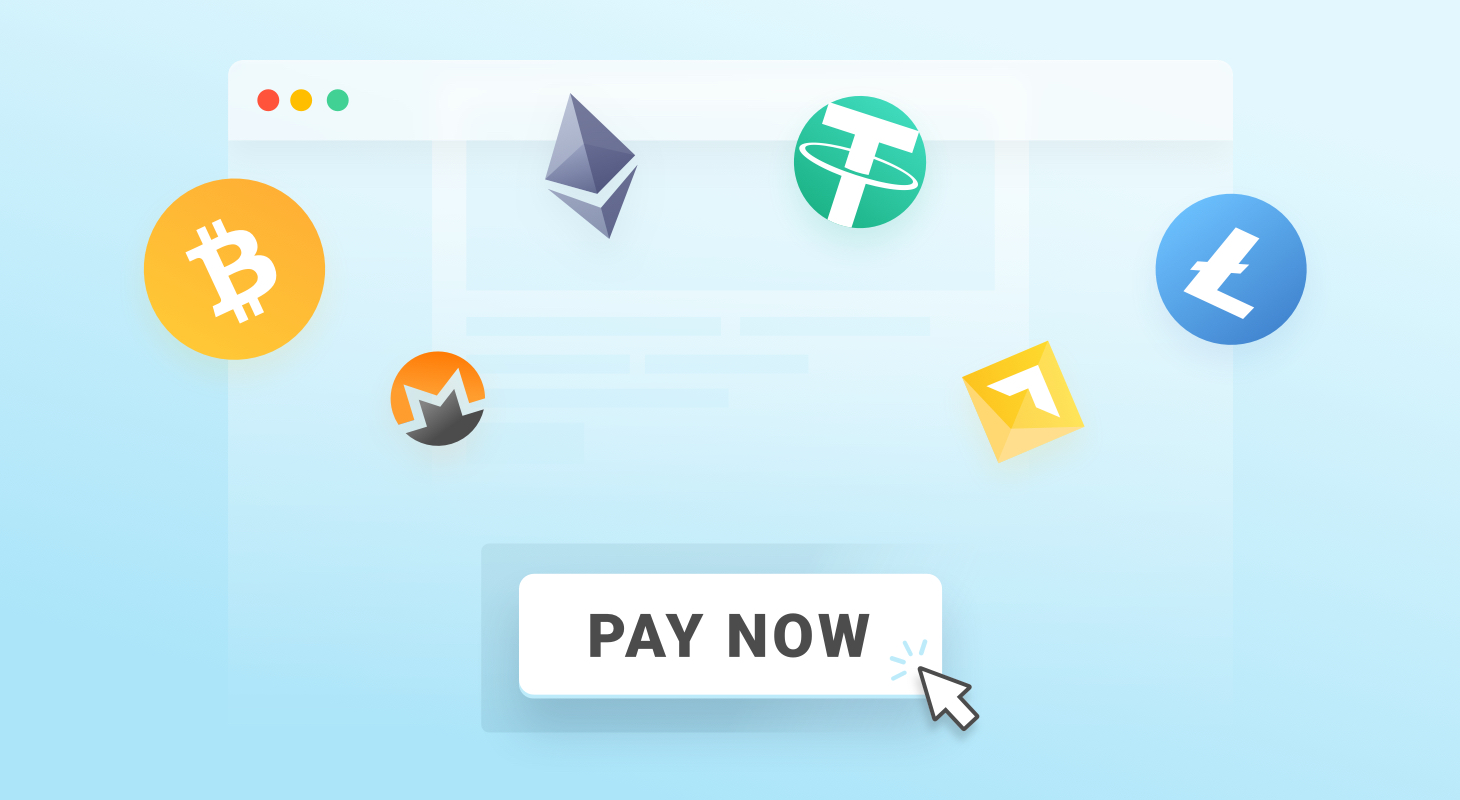 When using cryptocurrency payment methods, various businesses (including SMM panels) are able to accept transactions from customers in exchange for goods or services. Such payment methods allow receiving payments from any country securely due to the nature of blockchain-based cryptocurrencies.
As of yet, none of the cryptocurrency payment methods offer the option to automatically convert crypto coins to fiat. However, there are some that allow converting popular and highly volatile cryptocurrencies — like Bitcoin (BTC), Ethereum (ETH), etc — into stablecoins: USD Coin (USDC), Tether (USDT), Dai (DAI), and others. Stablecoins are cryptocurrencies the value of which is tied to outside assets (such as the U.S. dollar or gold) to stabilize the price. Since cryptocurrencies with short-term volatility are unsuitable for everyday use, people need stablecoins to achieve more stability when converting their cryptocurrency to fiat — government-issued currencies (USD, EUR, etc).
Thus, when using cryptocurrency payment methods, SMM panel owners are able to accept crypto coins and keep them for as long as they want inside their cryptocurrency wallets or convert volatile cryptocurrencies to stablecoins, and those to fiat after that.
Of course, there are also fees that have to be paid for crypto transactions. Those depend on the payment method used but there's one fee that goes with any cryptocurrency transaction, and that is a network (mining fee) that goes directly to cryptocurrency miners to secure the network and include a transaction in a block.
Despite the fees, the transactional cost of cryptocurrency payments is lower compared to similar credit card charges. Using cryptocurrency payments also helps avoid foreign exchange rates and transaction fees that are charged by many credit cards. Another great thing about paying with crypto is that such methods don't have the chargeback option, which means that returning funds to customers is at your own discretion.
The most commonly supported cryptocurrency is Bitcoin, though a lot of payment methods allow paying with other cryptocurrencies, such as Bitcoin Cash, Ethereum, Litecoin, and more. Some crypto payment gateways (like CoinPayments) support a huge variety of cryptocurrencies.
There are quite a few crypto payment methods integrated into our platform but the most commonly used on SMM panels are the following 3: Coinbase Commerce, CoinPayments, and Mycelium Gear.
Read further to learn more about each of those methods and the differences between them.
Coinbase Commerce
Coinbase Commerce was launched in 2018 by a leading US cryptocurrency broker and exchange Coinbase. Nowadays, it is one of the most popular cryptocurrency payment methods used to receive payments on SMM panels. This payment method allows users to accept such cryptocurrencies as Bitcoin, Bitcoin Cash, Ethereum, Litecoin, USD Coin, and Dai.
Due to on-chain payments, any fraudulent transactions aren't really possible. Since Coinbase is such a huge name in the crypto exchange world, this fact also proves that Coinbase Commerce is a trustworthy service.
Though, it's important to keep in mind that Coinbase Commerce accounts differ a lot from regular Coinbase accounts that are used for trading and investing in cryptocurrencies as it is not the same service. It means that your Coinbase balance won't be seen in the Coinbase Commerce account and vice versa, though both of those services are owned and operated by the same parent company.
Coinbase Commerce is just a payment method — it doesn't hold any private information regarding its users' crypto coins or their private keys. At the same time, it also doesn't give any options to access customer data.
Pricing
A lot of people prefer using Coinbase Commerce because there are no fees to accept payments. However, there are several fees you have to pay if you want to withdraw your cryptocurrency to your wallet and convert it to fiat, including the network (mining) fee that was mentioned above.
Again, network fees don't go to Coinbase Commerce — a fee like that is present in every single cryptocurrency transaction. There are several factors when it comes to determining a network fee, that's why it's really difficult to predict before a withdrawal attempt. The faster you want your transaction to be processed, the higher that fee is. In addition, these fees also depend on the size of the transaction and the number of transactions you need to process. As you see, there are a lot of aspects that you can't really control with crypto transactions.
To convert your cryptocurrencies to fiat, you need an account at a cryptocurrency exchange (like Coinbase.com). The conversion can be arranged with an additional fee.
Coinbase Commerce currently is a cryptocurrency-only service, which means that you can't link your bank account to it. What you're able to do is convert your cryptocurrency to USD Coin or withdraw it to your Coinbase account, and from there you can withdraw to your linked bank account.
To learn more about current Coinbase Commerce fees, check out their FAQ.
Pros and cons
Pros
- No fees for accepting payments
- Quick setup
- Easy to use, beginner-friendly (the easiest out of all 3 methods mentioned in this post)
- Lets accept price-stable cryptocurrency (stablecoins) — USD Coin & Dai
- Fast conversion to stablecoins
- Payments are processed on-chain, which eliminates the possibility of any fraudulent transactions
Cons
- No auto conversion option
- Several fees when converting cryptocurrency to fiat
- You aren't in full control of your funds
- If you lose your seed phrase, you won't be able to access your account (and if someone finds out what your seed phrase is, they can steal all your crypto)
- Limited range of cryptocurrencies
- Accounts susceptible to suspension and closure by Coinbase
- No app (web only)
- No built-in wallet (Coinbase Wallet is a separate service)
CoinPayments
CoinPayments has been providing cryptocurrency transaction solutions since 2013. Supporting a huge variety of coins, they strive to increase the adoption of cryptocurrencies worldwide by offering innovative payment options to everyone, including the unbanked and underbanked.
One of CoinPayments' best features are vaults that allow to store cryptocurrencies in a highly secure online database and set the time for which they won't be accessible at all — it's impossible to break into the database. There are a lot of features in general, and that's part of the reason why so many people choose this service.
Pricing
The company offers a flat fee of 0.5%. It means that when you buy, sell or trade cryptocurrencies, 0.5% of the sum is taken as a tax by CoinPayments. Though it seems like having a flat 0.5% fee for all transactions is a great deal, in reality, there are a lot more fees to deal with, to the point that we can say that CoinPayments is the least cost-effective crypto payment method among those that are mentioned in this post.
Urgent/nightly transactions: 0.5% + coin TX fee. Don't forget about mandatory network fees as well.
For cryptocurrency conversions, there's coin TX fee + conversion partner's fees (if any). To perform conversions, you need to set your payout addresses to go directly to some exchange. since CoinPayments doesn't perform those on its own.
If you want to convert your crypto to fiat, there are also many exchanges that you can use to trade coins for other coins or currencies.
When it comes to withdrawals to an exchange/wallet, you also have to pay a coin TX fee. Check out all current coin TX/withdrawal fees on CoinPayments' website.
Pros and cons
Pros
- Supports a huge variety of cryptocurrencies
- Secure (the company improved it after the 2017 Ripple theft incident, continues to maintain it)
- Has vaults and other unique features
- Offers a built-in wallet feature
- Not the most difficult crypto payment method out there, setup takes longer than it does for Coinbase Commerce — but it's not that hard to follow
- Web version + mobile app (iOS, Android)
- Auto conversion for some of the supported coins
Cons
- Fees for accepting payments, urgent/nightly ones are higher
- A lot of fees in general
- The least cost-effective option out of all 3 methods mentioned in this post
- You're not in full control of your funds
- The 2017 Ripple theft incident: hackers broke into the CoinPayments Ripple storing security databases, a huge amount of coins was stolen. CoinPayments gave all the stolen Ripple coins back to their owners and promised to work hard on their security measures.
Mycelium Gear
In 2015, Mycelium released their Bitcoin payment processor that was called Mycelium Gear. When using this payment method, you don't need to enter your personal information into any intermediary or KYC/AML for transactions to be conducted since Mycelium Gear doesn't actually handle any money.
With Mycelium Gear, the transaction process becomes less complex: the money goes from the customer right into the merchant's wallet, which means there's no need to wait for the merchant processor to transfer it into the merchant's bank. It also doesn't require any payment processor policies — there's no way to enforce them.
Mycelium Gear uses BIP32 public keys that are currently supported by Mycelium, Electrum, and Trezor wallets. It allows Gear to generate a new Bitcoin address for each new order, but only the merchant who provided the public key actually has access to the money, since that merchant also holds the private key.
Gear is called a payment processor because it provides a similar service: notifies merchants that a payment has been made. Again, Mycelium Gear doesn't hold any money itself, it simply watches the blockchain as well as generates addresses from the BIP32 public key — and both can be done by anyone.
Please note that Mycelium Gear is just a payment processor — it doesn't have the wallet feature. To use it, you need to already have a Bitcoin wallet that supports BIP32 (the most popular ones that do support it — Mycelium, Electrum, Trezor).
Pricing
Free with monthly selling volume up to 0.1 BTC — for small startups and those who want to explore Mycelium Gear features.
0.5% for every transaction after monthly sales exceed 0.1 BTC — for well-established business owners who do not want any limitations.
Of course, network fees are mandatory as well.
All current information on their pricing plans is available on their official website.
Pros and cons
Pros
- The most cost-effective option out of all 3 mentioned in this post
- Can't lock your money for whatever reason, you're always in control of your funds
- Doesn't hold the Bitcoins, the product is open source (no vendor lock-in)
- Not a lot of privacy-intrusive questions asked
Cons
- Can be confusing for beginners
- No built-in wallet (separate service — Mycelium Wallet)
- Requires to have a Bitcoin wallet that supports BIP32
- Supports only 1 cryptocurrency — Bitcoin
- No auto conversion option
- Exists as a web version only
- Customer support could be better (long waiting time)